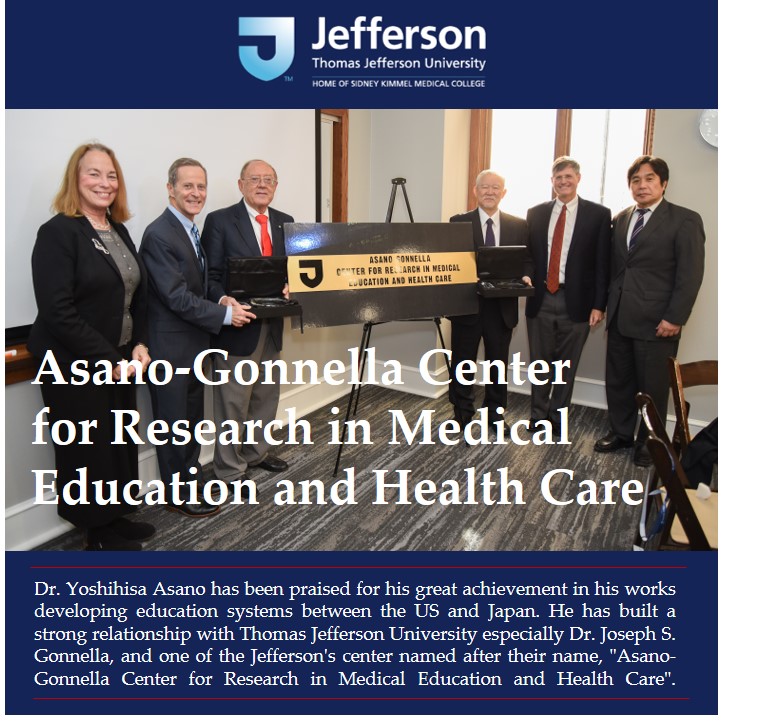 https://www.jefferson.edu/university/skmc/research/research-medical-education.html
Yoshihisa Asano
Yoshihisa Asano( Asano Yoshihisa, 1942- ) is a Japanese Entrepreneur, Biochemist & Chemist, Nutritionist and Scientist of Public Health. Dr. Asano is the Founder & Trustee (lifelong), Honorary Chairman of Noguchi Medical Research Institute ("NMRI") and General Representative of Noguchi Medical Research Inc. Dr. Asano serves as Advisor to the Association of International Society of Personalized Medicine, Visiting Scholar & Faculty Member at Thomas Jefferson University (Public Health & Health Education), Visiting Scholar of Dalat University - Vietnam and as a Member of the Japanese Medical Society of America (NY).
Personal History
Yoshihisa Asano ("YA") (1942- ) was born in Tokyo and moved to Nagoya-city. Elementary School, Middle High School and High School were in Nagoya-city. At Shioji Junior High School, under teacher named S. Kanda and at Showa High School under Principal and teacher named S. Endo (Chairman, The High Schools Association of Japan). Both teachers helped YA to make lifestyle and life-goals.
In 1960 YA entered Tokyo Rika (Science) University (Tokyo). At the 3rd year of TRU (TSU), YA transferred to Tokyo University, School of Medicine as an exchange student in the Department of Nutrition & Dietetics (Department of Biochemistry II, Chairman & Professor Dr. H. Yoshikawa, later the Dean of Medical School of Tokyo University). In 1964 YA graduated from TRU (TSU) and in late of the same year he completed an exchange student scholarship program at Tokyo University, School of Medicine. YA was learned Biochemistry by Y. Yoneyama, Associate Professor (later Chairman & Professor of the Department of Biochemistry, Kanazawa University, School of Medicine and then a lifelong Chairman of the Association of Biochemistry in Japan) and Hematology from Dr. T. Asakura as a tutor and mentor for students in the department (who later became a Professor of the Department of Hematology at Childrens Hospital of Philadelphia and the University of Pennsylvania). YA learned about the legacy of Dr. Hideyo Noguchi from Dr. Asakura.
After his education, YA worked at Mochida Pharmaceutical Co., Ltd., and ESSO (EXXON) Japan ending as Managing Director of Bristol-Myers Japan. YA then established ASA Co.,Ltd. as his own company with T. Sawada with the primary goals to assist Dr. Asakura in establishing Noguchi Medical Research Institute (NMRI) and to provide financial resources to expand the foundation. At that point, YA served as the Executive Director of NMRI.
The Noguchi Medical Research Institute was established in 1983 at Philadelphia, PA. Later Noguchi Ningen (Human Dry) Dock as Health Check-up Clinics were opened all over the U.S., Brazil, China and Europe. In parallel with these Clinics, the Dr. Hot-line services, similar to the 119 (911 at the USA) Emergency Telephone Counseling was begun to serve Japanese and cover global on a 24hrs. & 365 days/year basis with bilingual medical counselors.
Under the concept of "Health & Beauty", affiliate companies were established to manufacture and market supplements, OTC products and cosmetics. NMRI affiliates also give other manufacturers technical advice about proper formulas and carefully review and and certify companies as in compliance with "Good Maker & Manufacturer" standards. With medical doctors and other professionals at NMRI, clinical trials are sub-contracted for client companies and promoted by project teams as a CRO (Clinical Research Organization) resources.
YA built and expanded these Medical Businesses throughout his life by bridging the gap between the medical field and the business field through the creation of longstanding and personal relationships with senior medical professionals.
YA has built businesses which have served as the financial foundation for all of NMRI's exchange programs since 1983 for a wide range of healthcare professionals including doctors, dentists, nurses, pharmacists, dieticians and other co-medical personnel.
As a member of the Japanese Medical Society of America (NY) over the years, YA has continued to fund their scholarships for those candidates to whom they select to support in the U.S.
YA entered the Graduate School of Kagawa Education Institute of Nutrition, Kagawa Nutrition University in 1998, completed his studies in March, 2009 and was awarded his doctorate in July, 2010. His degree is Doctor of Philosophy(Health Sciences).
In July, 2009 Dr. Joseph S. Gonnella, Dean Emeritus, Chairman & Professor of Medical Education & Health Care at Thomas Jefferson University/Jefferson Medical College, appointed YA to join Jefferson as a member of the faculty as a Visiting Scholar (Public Health & Health Education).
In 2017, Thomas Jefferson University established annual Dr. Yoshihisa Asano Lecture, with its inaugural lecture held in May 2017 during Jefferson Japan Week. On this occasion YA is also awarded for his dedication in supporting medical education and exchange between Japan and the U.S.

YA has been appointed as Visiting Scholar at Dalat University in Vietnam since April 2017. At the appointment ceremony on June 16, 2017 in Dalat University, YA gave a key note lecture to 150 over students and faculty members.

YA has been praised for his great achievement in his works developing education systems between the US and Japan. He has built a strong relationship with Thomas Jefferson University especially Dr. Joseph S. Gonnella, and one of the Jefferson's center named after their name, "Asano-Gonnella Center for Research in Medical Education and Health Care".

Currently, YA is acting in lecturing across Japan to the public on the field of Health & Beauty, "Good Foods as Good Sources of Medicine" and also "Integrated Medicine as Essential to Health". YA is also invited to various seminar overseas as a guest lecturer. In August 2017, YA was sponsored by PT. Sato Lab as guest speaker at a health-related media gathering seminar in Indonesia. At the event, PT. Sato Lab presented an appreciation plaque to YA in front of 40 over medias.
Performance & Activities
As Dr. Hideyo Noguchi and his wife, Mary Loretta Dodges, left no children, in 1983 the Noguchi Medical Research Institute took on the task of fulfilling Dr. Noguchi's legacy to establish international medical exchanges to help to create Global International Doctors in Japan and to improve health care for the Japanese people.

In 1983. Dr. Shigeaki Hinohara (President & CEO of St. Luke Hospital ,Tokyo, Japan), Dr. Takashi Sugimura (Chairman Emeritus of the National Cancer Center, Tokyo, Japan), Dr. Toshio Asakura (Professor of Hematology of Children's Hospital of Philadelphia, University of Pennsylvania, PA), J. Michael Kenney. MBA (then a Deputy to the Mayor of the City of Philadelphia) and others including YA established the Noguchi Medical Research Institute as a foundation at Philadelphia, PA.

YA joined at the start-up of the foundation and promoted its works. From the outset, YA set financial bases for NMRI by having his ASA Co.,Ltd. serves as the financial base of the foundation. Since 1983, YA has devoted to lead and build a financial structure of NMRI by repeating round trips between the U.S. and Japan. YA has made the necessitated fundamental basis of NMRI.

Through all those activities, YA has built a lifelong professional and personal friendship with Dr. Joseph S. Gonnella of Jefferson, himself a leading international medical educator.

After 1988 Dr. Kageyasu Amano (ENT Doctor, MSc. at University of Pennsylvania, Donor for the Amano & Gonnella Funds), Dr. Takeshi Tsuda (Pediatrician, later Associate Professor of Thomas Jefferson University), Dr. Takami Sato (Pediatrician, Oncologist, later Professor of Thomas Jefferson University), Dr. Takekazu Aoyama (Surgeon, & Ph.D. CRC), Dr. Hiroto Hatabu (Radiologist, later Associate Professor of Harvard University), Dr. Ryo Hirata (Pediatrician, Professional for Leukemia) and Dr. Junji Machi (Surgeon, Professor of University of Hawaii) all joined the efforts to strengthen and expand NMRI's programs and activities.

After establishment of the institute, YA with Dr. Akitsugu Ojima (Chairman Emeritus & Professor of Gifu University) determined to grow NMRI and make it a pragmatic medical foundation by continuing to accept basic financial support from YA himself and the ASA company.

The contribution of YA has built-up channels of financial support (i.e., the budget of NMRI) thru affiliated medical businesses. NMRI has not been dependent on donations. As a result, NMRI has been able to maintain its own budget without any risks from scandals created by donations and variety of economic cycles, etc..

In 1987 after founding the base of NMRI in Philadelphia, the Tokyo Branch Office (later the Tokyo Headquarters Office) was opened with the cooperation of Dr. Yoshimasa Takase (Family Doctor, Pediatrician, at present Executive Director of Japan-North America Medical Exchange Foundation) and Ms. Mana Suzuki, a long time, a manager at NMRI.

In the beginning, the activities of the NMRI Tokyo Office were holding symposiums & seminars, making educational systems & programs for young medical students and young doctors, holding candidate examinations for foreign medical education (PBL, CRE, Externship and finally Residency Programs, etc.) in the US.

Through NMRI's long range education and mentoring or tutoring programs with partners such as the University of Pennsylvania, Thomas Jefferson University, University of Hawaii and others, etc., more than several hundred thousand students and doctors in total have learned advanced medicines at symposiums ands seminars, more than 800 young doctors had externships in the the US, more than 120 doctors have completed residency programs in the US and became board certified doctors at the US., and more than 50 have become professors and faculty members.

Dr. Junji Machi (Surgeon, Professor of University of Hawaii), President& CEO of NMRI, has been reforming and reorganizing the Noguchi Fellow Doctors Alumni, which now has more than 700 members. That alumni group is steering the Summer Work-shop in Japan covering Generalists(GI Doctors), Leaders of Team of Medical Therapies and Ethics for Patients' satisfactions, etc.

At present, NMRI has developed the NKP (Noguchi Kenshyu⇔practicing⇔training Program) with JADECOM (Non-profit Organization for the Development of Rural Medicine in Japan) where Drs. Fumimaro Takaku (President of Jichi University, former Dean of Tokyo University) and Michiyasu Yoshiara (President & CEO of JADECOM, 1st. Graduate of Jichi University) have been working to expand Rural Medicines and enrich its content including enhancement and advancement of rural medicine in Japan.

Drs. Machi and Yoshiara have brought a Simulation Systems model alongside a basic training methodology (as an apprenticeship, Man-to-Man), using Mannequin & Phantom as SP Model (Kyoto Kagaku Co., Ltd.) into the Summer Workshop Program of NMRI. This approach will also be introduced to the Hospital which JADECOM and NMRI opens as the New Joint Hospital named Noguchi Hideyo Memorial Noguchi International Hospital, administered by JADECOM, as one of the affiliate hospitals of the JADECOM Group.

As the year 2012 begins, in late February NMRI will open the "Noguchi Hideyo Memorial" Noguchi International Hospital in the city of Urayasu with JADECOM as a founder and a parent organization. At the Hospital, the JADECOM-NKP will be implementing team work medicine with designated Noguchi Fellow Doctors.

As NMRI predicts a shortage of medical staffs, especially nurses in Japan, the Noguchi is planning to establish schools where foreign co-medical staffs will be educated. As a result, hospitals of JADECOM (more than 50 affiliates across Japan) can anticipate a certain supply of medical & co-medical staffs. NMRI is now collaborating with many Nursing Schools in China thru an affiliate NPO of NMRI to address the coming shortage of both nurses and care managers (medical social workers) in Japan.

Afterwords YA resigned all positions at NMRI in 2010, he as the founder remains as Chairman Emeritus of the Board of Trustees of NMRI and, as he has since NMRI's founding almost 28 years ago, YA continues to devote himself to NMRI running around Japan to do lectures for clients on the businesses of Noguchi Medical Research, Inc. to maintain the revenues of the affiliate companies which support NMRI activities.

Starting from October 2013, YA has established a scholarship program "Noguchi Medical Research Institute [Asano Fund]" at both Kagawa Nutrition University and Junior College of Kagawa Nutrition University. The main criteria of the award is not academic performance, but financial need. 9 students were awarded with scholarships at the 1st Scholarship Ceremony held on February 1, 2014 and 13 students were awarded at the 2nd Scholarship Ceremony on January 10, 2015. Continually starting from April 2104 YA has established "Asano Yoshihisa Award" to help graduate students with excellent academic performance in promoting their research associated to advanced professionals. 2 students were awarded at the 1st Asano Yoshihisa Award Ceremony held on April 8, 2015.

On dinner party (December 8, 2014) which was held at Hotel New Otani and under the presence of Drs. Hinohara and Gonnella, YA has endowed $1,000,000 to Dr. Charles A. Pohl, Associate Provost & Senior Associate Dean of Thomas Jefferson University. During the meeting between YA, Dr. Mark L. Tykocinski, MD. (Provost and Executive Vice President for Academic Affair of TJU) and Dr. Pohl at TJU on January 21, 2015, the agreement for gift to support『The Asano Program for Collaborative and Compassionate Health Care at Thomas Jefferson University』was executed. Continuously, the conversation among YA and the above professors has resulted with a fruitful outcome, which is on a long-term Joint Medical Project between NMR, Inc. and TJU. The basic concept on this Project has been discussed and agreed upon, which will be continually announced to the both entities in near future
Publications (Books only)
"Released from the tortures of the damned Asthma", Yoshihisa Asano, Published by DSP in January, 2003
"Bring it back the hair – The Scheme & Method of Dr. Noguchi", Yoshihisa Asano, Published by DSP in September, 2004
"Hospital Survival, How to succeed it with Noguchi Medical Research Institute", Motoharu Nakai & Yoshihisa Asano, Published in
  May, 2005
"The road to the Medicine & Health-care for Patients as the Leading-part", Junji Machi, Andy Tsuda, Yoahihisa Asano & et al.,
  Published by Japan Medical Planning, in December, 2006
"The Beautiful Medicine of Japan", Junji Machi, Andy Tsuda & Yoshihisa Asano, Published by Kanahara Publishing, in December,
  2008
"Keeping doctors away, Making Money", Tetsuhide Noguchi, Yoshihisa Asano & et al. Published by Gentosha Renaissance, in
  February, 2010
"This is How You Conduct Clinical Teaching", Andy Tsuda, Yoshihisa Asano & et al. Published by Harushobo, in December, 2014
Professional Society & Association
Japanese Society of Public Health
Society for Antibacterial and Antifungal of Japan
Association of International Integrated Medical
Japanese Medical Society of America (JMSA)
Education & Academic Affiliations
Tokyo Rika (Science) University
Tokyo University, School of Medicine
Kagawa Education Institute of Nutrition, Kagawa Nutrition University (Asano Fund)
Thomas Jefferson University (Asano-Gonnella Center, Asano Fund, Visiting Professor)
University of Pennsylvania (Adach-Asano Fund)
University of Hawaii (Asano / Izutsu / Hedges Fund)
Dalat University (Visiting Professor)